Festival Band
The 16th annual Three Rivers Community Band Festival will be held on Saturday, March 30, 2019, and again will feature a Festival Band as one of four performing bands. The Festival Band is comprised of players from numerous community bands throughout the region. No audition is necessary; players must only complete a registration form and pay a small fee. The goal of the Festival Band is to include as many players as possible from the widest number of area groups–and to have a great time making music together!
Guest Conductor: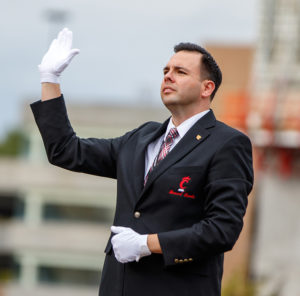 Christopher Nichter is currently the 14th Director of Bearcat Bands at the University of Cincinnati. Previously, he held for 10 years the position of Assistant Director of Bands and Assistant Director of Athletic Bands at West Virginia University in Morgantown, WV. He served the WVU School of Music as the Founder and Director of the Mountaineer Music Academy, Director of the Concert Band, Assistant Director of the 360-member Sudler Award-winning "Pride of West Virginia," the Mountaineer Marching Band and the 70-member Basketball Pep Band, and Assistant Conductor of the Wind Symphony and Symphonic Band. In addition, Mr. Nichter instructed Music Arranging for Public School Groups, Fundamentals of Conducting, Conducting and Score Interpretation, and private conducting and band repertory study.
Guest conducting appearances have included high school All-County Bands in West Virginia counties Boone, Fayette, Harrison, and Wyoming, the Region One Middle School Honor Band in Wheeling, and the Region Nine High School Honor Band in Martinsburg. Other appearances have occurred with high school bands and honor groups in West Virginia, Pennsylvania, Maryland, and Virginia. Ensembles ranging in size and stature from the WVU Marching Band to small, rural high school bands have performed his arrangements and drill for marching band and he serves as an active adjudicator and clinician.
Mr. Nichter possesses a Master of Music in Conducting degree with interest in wind band/ensemble literature and a Bachelor of Music in Education degree, Magna Cum Laude, both from West Virginia University. He has studied conducting with John Hendricks, Kathleen Shannon, Don Wilcox, Harvey Felder, and Lawrence Christianson. Prior to his present at WVU, Mr. Nichter served as the Graduate Assistant for the WVU Bands and the Director of Bands and Instrumental Music at Fort Hill High School in Cumberland, Maryland. His teaching responsibilities at Fort Hill included an extremely active and successful concert and marching band program as well as jazz, percussion, and string ensembles.
Mr. Nichter was a four-year member of the WVU Marching Band as an undergraduate, and he earned the distinction of being named the ensemble's Outstanding Section Leader (tuba) in 2002. His professional affiliations include the College Band Directors National Association, National Association for Music Education, and Ohio Music Educators Association. He is an honorary Brother of Kappa Kappa Psi (Omicron 2007), Phi Mu Alpha Sinfonia (Epsilon Sigma 2013, Province 39 Governor 2016-2017), and Phi Beta Mu (Tau 2016).
Registration
Registration is now closed as of February 10, 2019
You now have the option of registering and/or paying online. Just follow the simple instructions at the link below.
(Note:  registering and paying online simplifies the work of the festival committee.  And you will be emailed a registration confirmation within minutes.)
Register and/or pay online at: 2019 TRCBF Online Registration Form
You may also download and complete a registration form and mail it with your check.
Download the Registration Form: Link to Printable Registration Form
If you have trouble accessing the files or need a different format, please send us an e-mail at festival@ewsb.org.
Then please mail completed forms to:

Three Rivers Community Band Festival
5714 Elgin Street
Pittsburgh, PA 15206

Deadline: Your registration is due by February 10th, and Festival Band acceptance notifications will be emailed to applicants by February 25th.
If you do not provide an email address, you will be notified either by phone or US Mail. We are planning for a full, balanced symphonic band that represents as many community bands as possible; although we hope to accept all applicants, this may not be possible for balance reasons.
If you play multiple instruments, please list all you are willing to play in the Festival Band on the registration form. This will help us balance instrumentation as well as enhance the likelihood of your participation.
Fee: There is a $25 fee to cover music costs and breakfast/lunch expenses. If we have to turn you away, we will return your registration fee.
Please include payment with your registration form.
Refunds: If you are unable to play in the Festival Band after being notified of your placement, you have until March 23 to let us know. After that time you will not receive a refund.
Guest Lunches: If you are bringing a spouse or other guest(s) who would also like to purchase lunch, please include an additional $15 per guest.
Guests: Guests may attend all the festival performances for free, including the after-performance reception.
Requirements
To be eligible, you must:
Currently play in a community band or instrumental ensemble
Be willing to come to the morning rehearsal (report at 8:30 AM, rehearsal 9 – 11:30 AM)
Schedule
The following is a rough outline of the day of the festival. Exact times will be posted as they are finalized.
Check-in and Breakfast: Starting at 8:30 am, you may check in and enjoy a light breakfast (included in registration fee) in the cafeteria.
Rehearsal: 9 am to approx. 11:30 am with the guest conductor in the auditorium.
Lunch: A luncheon (included in registration fee) will be held between the Festival Band Rehearsal and the start of the concerts during which musicians can meet, socialize, and discuss issues pertaining to community bands.
Performance: The Festival Band will be performing first at 2:00 pm. If you need to leave after the Festival Band performance, you may, but we hope you will stay to hear the other bands from our region perform!
After-festival Reception: Bands performing in the afternoon are asked to provide cookies (home-made or store-bought) for the reception following the afternoon program. If you wish to bring cookies for the reception, please bring them to the cafeteria during registration prior to rehearsal. Beverages will be provided by the festival committee.
Location – Returning to the Upper St. Clair Theater
Upper St. Clair Theater / Upper St. Clair High School
Just below South Hills Village on Rte. 19 South
The address is:
Upper St. Clair High School
1825 McLaughlin Run Road
Upper St. Clair, PA 15241
Google Maps
Other information
Attire: bottom: black, top: black, white, or band shirt with logo
Stands: Please bring your own stand.
Part Assignment and Chair Placement: We will try to assign instrumentation and parts based on preferences indicated on your application or on overall balance requirements of the band. Please indicate the part you prefer to play (first, second, etc.), but keep in mind that we may have to rotate parts for different pieces among several players to accommodate all requests.
Accessibility: The stage is wheel chair accessible via a loading elevator in the back. If you require other accommodations, please let us know.
Past Conductors of the Festival Band
2008
2009
Max Gonano
Elisabeth Heath Charles
2010
2011
Dennis Colwell
Paul Gerlach
2012
2013
James Gourlay
Sam Hazo
 
2014
 2015
Don Wilcox
 Marty Sharer
2016
 2017
Steve Gage
 Major William Garlette
2018
Otis French