Festival Band
The 15th annual Three Rivers Community Band Festival will be held on Saturday, April 14, 2018, and again will feature a Festival Band as one of four performing bands. The Festival Band is comprised of players from numerous community bands throughout the region. No audition is necessary; players must only complete a registration form and pay a small fee. The goal of the Festival Band is to include as many players as possible from the widest number of area groups–and to have a great time making music together!
Guest Conductor: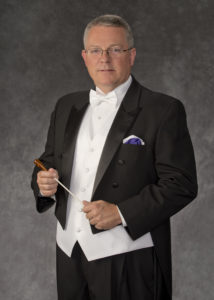 Dr. Otis C. French serves as the Director of Bands and Instrumental Activities at the University of Mount Union, Alliance, Ohio, where he directs the Purple Raider Marching Band, Wind Ensemble, Concert Band, and teaches music education courses. Originally from Berea, KY, Dr. French entered the Army Music Program in 1978, and served for over 24 years. He performed as a Euphonium soloist with Army bands in New Jersey, Virginia, and Korea, before being selected to become an officer and conductor. He commanded Army bands in Texas, Heidelberg Germany, and Atlanta, GA. Dr. French also commanded the Staff and Faculty Company of the Army Element School of Music, while also serving as the Army Training Liaison Officer. While in Atlanta he commanded the prestigious Army Ground Forces Band, and served as the Army Forces Command Staff Bands Officer, where he managed over 120 Army National Guard and Reserve bands. He retired at the rank of Major in 2002.
Dr. French has served as Director of Bands at the college level in Pennsylvania and Wisconsin prior to his appointment at Mount Union, and has served as an assistant high school band director in Pennsylvania. He holds a Doctor of Musical Arts degree in Instrumental Conducting from the University of Maryland, a Master of Music Degree in Conducting from Indiana University, and a Bachelor of Arts degree in Music and Business Administration from Saint Leo University. He remains active as a guest conductor, clinician, adjudicator, Euphonium soloist, and marching band show designer.
Dr. French has served as a board member for the Conductor's Guild, where he also performed duties as editor for Podium Notes, that organizations quarterly newsletter. He also was a founding board member of the Pocono Chamber Music and Flute Societies. He has given professional presentations on conducting at National and State Music Education conferences, and has had his ensembles selected to perform at state and national conferences as well. Additionally, Dr. French was awarded the Citation for Musical Excellence by the National Band Association.
Registration
You now have the option of registering and/or paying online. Just follow the simple instructions at the link below.
(Note:  registering and paying online simplifies the work of the festival committee.  And you will be emailed a registration confirmation within minutes.)
Register and/or pay online at: 2018 TRCBF Online Registration Form
You may also download and complete a registration form and mail it with your check.
Download the Registration Form: Link to Printable Registration Form
If you have trouble accessing the files or need a different format, please send us an e-mail at festival@ewsb.org.
Then please mail completed forms to:

Three Rivers Community Band Festival
5714 Elgin Street
Pittsburgh, PA 15206

Deadline: Your registration is due by February 15th, and Festival Band acceptance notifications will be emailed to applicants March 15th.
If you do not provide an email address, you will be notified either by phone or US Mail. We are planning for a full, balanced symphonic band that represents as many community bands as possible; although we hope to accept all applicants, this may not be possible for balance reasons.
If you play multiple instruments, please list all you are willing to play in the Festival Band on the registration form. This will help us balance instrumentation as well as enhance the likelihood of your participation.
Fee: There is a $25 fee to cover music costs and breakfast/lunch expenses. If we have to turn you away, we will return your registration fee.
Please include payment with your registration form.
Refunds: If you are unable to play in the Festival Band after being notified of your placement, you have until April 7th to let us know. After that time you will not receive a refund.
Guest Lunches: If you are bringing a spouse or other guest(s) who would also like to purchase lunch, please include an additional $15 per guest.
Guests: Guests may attend all the festival performances for free, including the after-performance reception.
Requirements
To be eligible, you must:
Currently play in a community band or instrumental ensemble
Be willing to come to the morning rehearsal (report at 8:30 AM, rehearsal 9 – 11:30 AM)
Schedule
The following is a rough outline of the day of the festival. Exact times will be posted as they are finalized.
Check-in and Breakfast: Starting at 8:30 am, you may check in and enjoy a light breakfast (included in registration fee) in the cafeteria.
Rehearsal: 9 am to approx. 11:30 am with the guest conductor in the auditorium.
Lunch: A luncheon (included in registration fee) will be held between the Festival Band Rehearsal and the start of the concerts during which musicians can meet, socialize, and discuss issues pertaining to community bands.
Performance: The Festival Band will be performing first at 2:30 pm. If you need to leave after the Festival Band performance, you may, but we hope you will stay to hear the other bands from our region perform!
After-festival Reception: Bands performing in the afternoon are asked to provide cookies (home-made or store-bought) for the reception following the afternoon program. If you wish to bring cookies for the reception, please bring them to the cafeteria during registration prior to rehearsal. Beverages will be provided by the festival committee.
Location – New This Year
Upper St. Clair Boyce Middle School Theater
The school is located just 5 minutes south of the Upper St. Clair High School.
The address is:
Upper St. Clair Boyce Middle School
1500 Boyce Road
Upper St. Clair, PA 15241
Google Maps
Other information
Attire: bottom: black, top: black, white, or band shirt with logo
Stands: Please bring your own stand.
Part Assignment and Chair Placement: We will try to assign instrumentation and parts based on preferences indicated on your application or on overall balance requirements of the band. Please indicate the part you prefer to play (first, second, etc.), but keep in mind that we may have to rotate parts for different pieces among several players to accommodate all requests.
Accessibility: The stage is wheel chair accessible via a loading elevator in the back. If you require other accommodations, please let us know.
Past Conductors of the Festival Band
| | |
| --- | --- |
| | |
| 2008 | 2009 |
| Max Gonano | Elisabeth Heath Charles |
| | |
| 2010 | 2011 |
| Dennis Colwell | Paul Gerlach |
| | |
| 2012 | 2013 |
| James Gourlay | Sam Hazo |
| |   |
| 2014 |  2015 |
| Don Wilcox |  Marty Sharer |
| | |
| 2016 |  2017 |
| Steve Gage |  Major William Garlette |