The tenth festival will be held on Saturday, April 27, 2013 at 2:30pm at Upper St. Clair Theatre. It will feature three bands and a Festival Band of area musicians. See the Concert Info page for more details.
Download our 2013 Festival flyer to distribute, post, and help spread the word!
There will be a festival band made up of area musicians again this year; there will be a rehearsal in the morning before the festival. If you would like to participate in the festival band, please download a registration form:
Registration Form (.doc Word file)
Registration Form (PDF)
And mail completed forms and registration fees to:

Three Rivers Community Band Festival
c/o Susan Craft
208 Henry Ave
Sewickley, PA 15143
More details are available on the Festival Band page.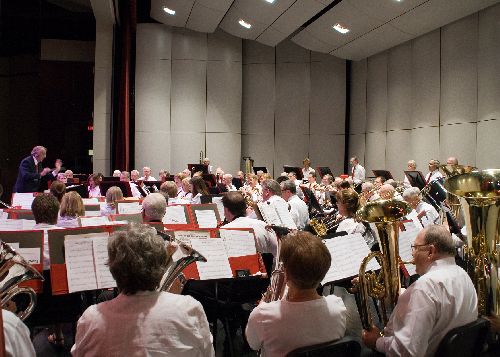 The Three Rivers Community Band Festival was begun in order to highlight the community bands in the Pittsburgh, Pennsylvania area. The first festival, sponsored by the East Winds Symphonic Band, was presented on April 4, 2004 at the Upper St. Clair Theatre, and was a phenomenal success. The festival has since been an annual tradition each spring.
To be placed on the mailing list, or if you have comments or questions, please email festival @ ewsb.org.
The Festival Band conductor will be Samuel R. Hazo.
Samuel R. Hazo (b. 1966) resides in Pittsburgh, Pennsylvania with his wife and children. In 2003, Mr. Hazo became the first composer in history to be awarded the winner of both composition contests sponsored by the National Band Association. He has composed for the professional, university and public school levels in addition to writing original scores for television, radio and the stage. His original symphonic compositions include performances with actors Brooke Shields, James Earl Jones, David Conrad and Richard Kiley. In 2012, two of Mr. Hazo's compositions were performed during the London Summer Olympic Games. On the Internet, Mr. Hazo's music has compiled over two million hits on YouTube. His compositions have been performed and recorded world-wide, including performances by the Tokyo Kosei Wind Orchestra (national tour), the Birmingham Symphonic Winds (UK) and the Klavier Wind Project's recordings with Eugene Migliaro Corporon. The University of Notre Dame world-premiered his "Siorai September" at Carnegie Hall in New York. Additionally, numerous titles of Mr. Hazo's works are included in the series "Teaching Music Through Performance in Band." He has served as composer-in-residence at Craig Kirchhoff's University of Minnesota Conducting Symposium and has also lectured on music and music education at universities and high schools internationally. In 2004, Mr. Hazo's compositions were listed in a published national survey of the "Top Twenty Compositions of All Time" for wind band. He is a member of ASCAP and recipient of multiple ASCAPlus Awards.
Mr. Hazo has been a music teacher at every educational grade level from kindergarten through college, including tenure as a high school and university director. He has been asked to guest conduct over 50 university ensembles and, as of 2013, one third of the High School All-State bands in America. Mr. Hazo was twice named "Teacher of Distinction" by the Southwestern Pennsylvania Teachers' Excellence Foundation. He received his bachelor's and master's degrees from Duquesne University where he served on the Board of Governors and was awarded as Duquesne's Outstanding Graduate in Music Education. Mr. Hazo serves as a lecturer and clinician for Hal Leonard Corporation. He is also sponsored by Sibelius Music Software.