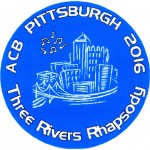 We a the host band for the National Convention for the Association of Concert Bands in 2016 (March 30, 2016 – April 3, 2016).
Read more at the official website.
---


Based in the eastern suburbs of Pittsburgh, PA, the East Winds Symphonic Band performs a variety of music arranged for concert band, including symphonies, marches and popular melodies. The band is composed of approximately 70 individuals who share a common interest in performing this music. Most of our members have other professional pursuits but take time out from their busy schedules to join with other musicians for our weekly rehearsals and numerous concerts.
---
Announcements
---
We were thrilled to meet Pittsburgh Mayor William Peduto and participate in the proclamation of April 2016 as Community Concert Band month! Read more…
---
Congratulations to Mike Moyta for winning a 2014 VITA Award for his work with the East Winds Symphonic Band!
Read more about the award here.
---
We are actively seeking players for the following sections:
-Contrabass Clarinet
-Bassoon
-French Horn
If you are interested, please
contact us
.